DJI Mavic 2 Pro (EU) with 1 Year Malaysia Warranty
RM6,599.00
Foldable and robust
Fantastic aerial photographs with a high level of detail
Flying height up to 100m
Flying speed up to 72km/h
Hasselblad L1D-20c camera with 20 megapixels
4K Ultra HD video recordings (3,840 x 2,160 pixels, 24/25/30fps)
Lens: 77-degree field of view, F 2.8 to 11/28mm
High-performance Ocusync 2.0 transmission system 8km in 1080p live video transmission
3-axis gimbal
Hyperlapse (time lapse recordings)
HyperLight
Omnidirectional obstacle detection
ActiveTrack 2.0 subject tracking
Quiet drive system
Compatible operating systems: Android™, iOS
Memory capacity: 8GB, expandable up to 128GB with a micro SD card
Lightning, micro USB (type B), USB-C
Lithium polymer battery (3,850mAh, flying time up to 31 mins., charging time up to 1.5 hrs.)
Description
Drone Mavic 2 Pro by DJI: accuracy and performance
1-inch CMOS sensor
The all-new 1-inch CMOS sensor has an active detection field four times more effective than the original Mavic Pro. The large sensor also provides better performance in low-light environments with a wider ISO range, with maximum ISO sensitivity increased from 3200 to 12800.
Dlog-M 10-bit color profile​
The Mavic 2 Pro supports a 10-bit Dlog-M color profile that offers a wider dynamic range for greater flexibility in the filing room. The system records more than a billion colors (compared to the 16 million colors of traditional 8-bit color coding technologies) and maintains more detailed details in bright and dark areas. You can now capture the most subtle shades at sunset or sunrise, leaving more space for post-production.
HDR Video
With 10-bit HDR 4K support, the Mavic 2 Pro can be connected to a 4K TV with HLG and will immediately play back the sequences with the right color tones, including highlights and increased contrast that make HDR so attractive.
Adjustable opening
The adjustable aperture f/2.8-f/11 provides exceptional image quality in high and low light environments. When shooting in low light, set the aperture to f/2.8 to allow more light and to capture clear and bright pictures. When taking pictures in well-lit environments, set the aperture to f/11 to reduce the shutter speed and make your videos more smooth.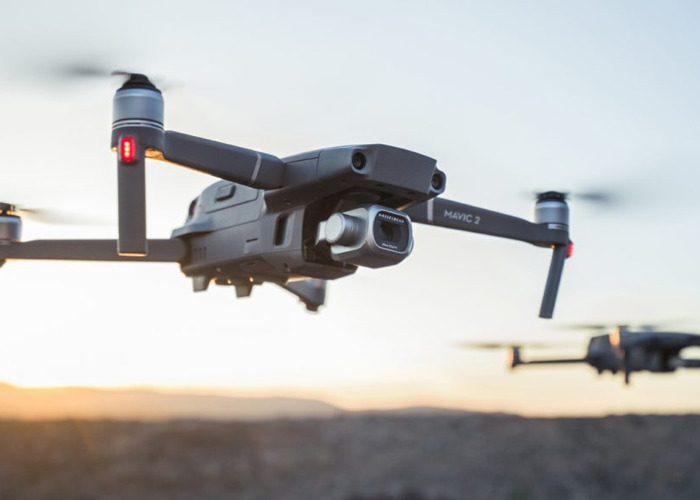 The DJI Smart controller is designed to maximize your outdoor flying experience with the Mavic 2 or any other aircraft equipped with the OcuSync 2.0. An integrated 5.5-inch display provides clear and crisp images, even in difficult conditions. Intuitive controls and pre-installed features such as SkyTalk and DJI GO 4 allow you to take off faster, more clearly and more easily than ever before.
Ultra-bright display
The intelligent DJI controller features an integrated 5.5-inch 1080p display, offering an ultra-bright display to keep your live stream easily visible, even in direct sunlight. With 1000 cd/m2, the screen is about twice as bright as conventional smart device screens.
Full HD video transmission OcuSync 2.0
Equipped with OcuSync 2.0 Full-HD video transmission technology, the DJI Smart Controller supports automatic switching between 2.4 GHz and 5.8 GHz, reducing the influence of environmental interference on drone operation and image quality.
Efficient and portable
The intelligent DJI controller connects to your drone as soon as it is switched on so you can take off quickly and never miss a moment of the action.DJI Go Share
Transférez facilement vos photos et vidéos aériennes depuis le DJI Smart Controller vers votre appareil mobile grâce à la nouvelle fonction Go Share de l'application DJI GO 4.
Customized system
The custom Android system and the optimized DJI GO 4 application of the intelligent DJI controller free you from the constraints of conventional mobile devices to ensure faster and more targeted aerial creation.
Excellent audio and video performance
The DJI Smart Controller comes with a built-in microphone and speaker for extended options such as live broadcasting. It can also play videos via the 4K HDMI output port with H.264 or H.265.
SkyTalk
The new SkyTalk feature is an amazing way to share your flying experience with others. Use it to broadcast live view of your drone's camera on social media platforms such as Facebook and Instagram and to create and share short videos instantly.
Long battery life
The 5000 mAh battery supports fast charging and can operate continuously for up to 2.5 hours.
Drone Mvic Pro 2 (EU): technical specifications
Hasselblad Camera
 1″ CMOS sensor CMOS
 Adjustable opening
 Dlog-M 10-bit
 Hyperlapse
 Video: 4K 30 fps, 2.7K 60 fps, FHD 120 fps
 2.7K : 2688×1512 24/25/30/48/50/60p
 FHD: 1920?1080 24/25/30/48/50/60/120p
 JPEG / DNG photo format (RAW)
 Internal storage 8 GB
 ActiveTrack 2.0
 Max. speed 72km/h: 72km/h
 Flight time: 31 min
 Dimensions: 91x84x84x214 mm
 Weight: 907 g